Public Policy Committee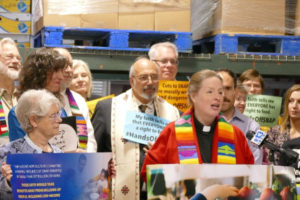 The Public Policy Committee overseas the MCC's legislative work.
Issues of current focus:
The eradication of poverty and economic security, including a livable wage and adequate assistance to those unable to work. Healthcare, hunger and homelessness, aging in place and addressing the root causes of poverty are included in this focus.
Reducing violence and bias while promoting civility and respect. Human trafficking is included in this.
The environment and right relationship with the earth.  Climate change, sustainable practices, local foods and protecting our natural resources are common themes in all of our denominations' concerns.
There is so much work to do.  How do we decide where to put our efforts?
We utilize the following in the discernment process:
Primary 2 filters are:
Does this fit/adhere to the mission statement of MCC?
Can all 7 denominations support/agree on it?
Followed by these clarifying questions:
How much staff time will be needed?
Will at least one Board member provide leadership and be passionate about it?
Can congregations be mobilized in support?
What is the financial cost to MCC?
Is there funding available?
What is the impact: will voices of faith make a difference?
In what ways is MCC strengthened/recognized by this involvement?
Related documents