Voices of Color – Week #6
This is the sixth installment in our "Voices of Color" series. As our nation's attention is turned to the race-based oppression and privilege that plague us, many in the white community are seeking ways to stand in trustworthy solidarity with our siblings of color. We at the Maine Council of Churches, whose denominations, clergy and congregants are predominantly white, would like to offer an opportunity for white people of faith and good will to simply STOP—in contemplative, prayerful, humble silence—and LISTEN to the voices of people of color—to the truth, pain, judgment, and prophetic calls to action those voices are speaking. Each week this summer, we will publish a link to a short excerpt from a video, radio broadcast or podcast, along with some biographical information about the speaker. It is our hope that this spiritual discipline of listening will lead to transformative awareness and action.
Voices of Color – Week #6
Rev. Dr. Mark Bozzuti-Jones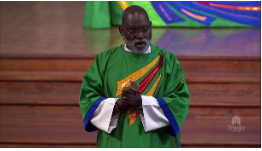 The Rev. Mark Francisco Bozzuti-Jones is Director of Core Values and Director of Latin American and Caribbean Relations at Trinity Episcopal Church Wall Street. Born in Kingston, Jamaica, Rev. Dr. Bozzuti-Jones studied philosophy at Loyola University in Chicago prior to receiving his Master of Divinity degree from the Jesuit School of Theology in Berkeley, California. He also received a Master of Arts degree in creative writing from the University of San Francisco. He started his career as a Jesuit missionary serving in Belize, Brazil, Guyana, and Mexico, and then joined the Anglican community. He is an award-winning author and has published numerous books, including The Womb of Advent (Church Publishing), Never Said a Mumbalin' Word (Augsburg), The Miter Fits Just Fine: A Biography of Bishop Barbara Harris (Cowley), Informed by Faith (Cowley), Sing the Faith: Spirituals (Augsburg Fortress), and the children's books, God Created (Augsburg Fortress), God Thought of You (Morehouse), and Jesus the Word (Augsburg). In his Tuesday, June 9, 2020, sermon, "Rejoice in Truth-Telling," Rev. Dr. Bozzuti-Jones asked, "My dear white Christians: do you understand yet that racism is a sin?"
Click HERE to watch the 9-minute sermon
We are grateful to MCC Office Administrator, Megan Akers, for suggesting this sermon for our Voices of Color series.