Voices of Color – Week #5
This is the fifth installment in our "Voices of Color" series. As our nation's attention is turned to the race-based oppression and privilege that plague us, many in the white community are seeking ways to stand in trustworthy solidarity with our siblings of color. We at the Maine Council of Churches, whose denominations, clergy and congregants are predominantly white, would like to offer an opportunity for white people of faith and good will to simply STOP—in contemplative, prayerful, humble silence—and LISTEN to the voices of people of color—to the truth, pain, judgment, and prophetic calls to action those voices are speaking. Each week this summer, we will publish a link to a short excerpt from a video, radio broadcast or podcast, along with some biographical information about the speaker. It is our hope that this spiritual discipline of listening will lead to transformative awareness and action.
Voices of Color – Week #5
Nicole Ellis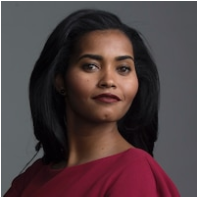 Nicole Ellis, host of the video series, "The New Normal," is an on-air reporter and filmmaker covering social issues and breaking news for The Washington Post. She received her BA in Anthropology and Human Rights from Columbia University and her MS in Journalism from the Columbia Journalism School. An Emmy nominated reporter Ellis hosts, produces, and directs original documentaries and breaking news videos that air on The Post's website, YouTube, Amazon Prime, Facebook, and Twitch. Before joining The Post, she was a member of the CNN Heroes production team, a Peabody and Emmy Award-winning series that honors everyday people for their selfless, creative efforts to help others. In 2015 she self-funded, shot, produced and directed her first documentary, "Blind Date." Her reporting has been incorporated into academic curricula and journalism courses at Harvard University, Howard University, Bowie State, and Columbia Graduate School of Journalism, among others. In 2016, she received the Silver Screen Award, Nevada Film Festival and was a Finalist, Best Documentary Short, Middlebury New Filmmaker Festival. The June 7, 2020 edition of The New Normal, "Anti-racism: You may be doing it wrong. Here's why," explores common pitfalls in white people's journey to be anti-racist and suggests more productive and supportive alternatives.