Voices of Color – Week #4
This is the fourth installment in our "Voices of Color" series.
As our nation's attention is turned to the race-based oppression and privilege that plague us, many in the white community are seeking ways to stand in trustworthy solidarity with our siblings of color. We at the Maine Council of Churches, whose denominations, clergy and congregants are predominantly white, would like to offer an opportunity for white people of faith and good will to simply STOP—in contemplative, prayerful, humble silence—and LISTEN to the voices of people of color—to the truth, pain, judgment, and prophetic calls to action those voices are speaking. Each week this summer, we will publish a link to a short excerpt from a video, radio broadcast or podcast, along with some biographical information about the speaker. It is our hope that this spiritual discipline of listening will lead to transformative awareness and action.
Voices of Color – Week #4
Rev. Dr. Jay Williams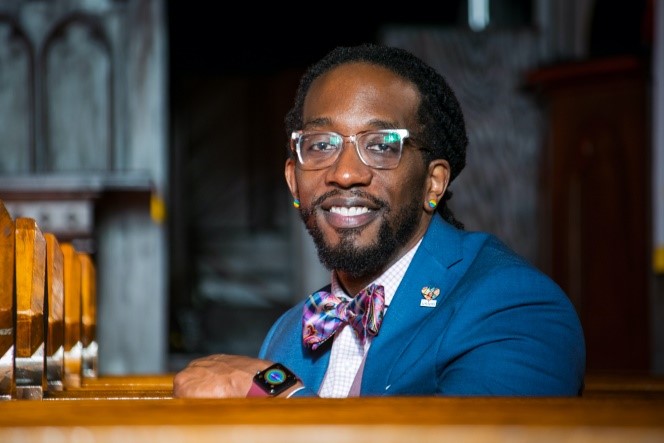 Rev. Gerald "Jay" Williams, Ph.D., is an ordained Elder in the United Methodist Church and currently serves as the lead pastor of Union Church in Boston. He has also served congregations in New York City, Boston, and San Francisco, including Glide Memorial. Williams holds a Master of Divinity with highest honors from Union Theological Seminary in the City of New York (2009) and the Bachelor of Arts magna cum laude from Harvard College (2003). In May 2017, he received the Ph.D. in the Study of Religion from the Harvard University Graduate School of Arts and Sciences. Dr. Williams, a queer cisgender man, has written extensively on the meaning of "Spirit" in black cultural discourse at the intersection of race, class, gender, and sexuality. Through his pastoral and academic work, he strives to help more disinherited folk find their voices.
On May 24, 2020, Rev. Dr. Williams preached a sermon at Union Church entitled, "Keep Hope Alive."
CLICK HERE TO LISTEN TO A FIVE-MINUTE EXCERPT OF HIS SERMON
We are grateful to Rev. Allen Ewing-Merrill, UMC representative to the Board of Directors of the Maine Council of Churches, and Executive Director of The BTS Center, for introducing us to the work and wisdom of Rev. Dr. Williams.