Voices of Color – Week #1
As our nation's attention is turned to the race-based oppression and privilege that plague us, many in the white community are seeking ways to stand in trustworthy solidarity with our siblings of color. We at the Maine Council of Churches, whose denominations, clergy and congregants are predominantly white, would like to offer an opportunity for white people of faith and good will to simply STOP—in contemplative, prayerful, humble silence—and LISTEN to the voices of people of color—to the truth, pain, judgment, and prophetic calls to action those voices are speaking. Each week this summer, we will publish a link to a short excerpt from a video, radio broadcast or podcast, along with some biographical information about the speaker. It is our hope that this spiritual discipline of listening will lead to transformative awareness and action.
Voices of Color – Week #1
Rev. Linette George, Pastor, Dedham Congregational Church and Holden Common Parish, Maine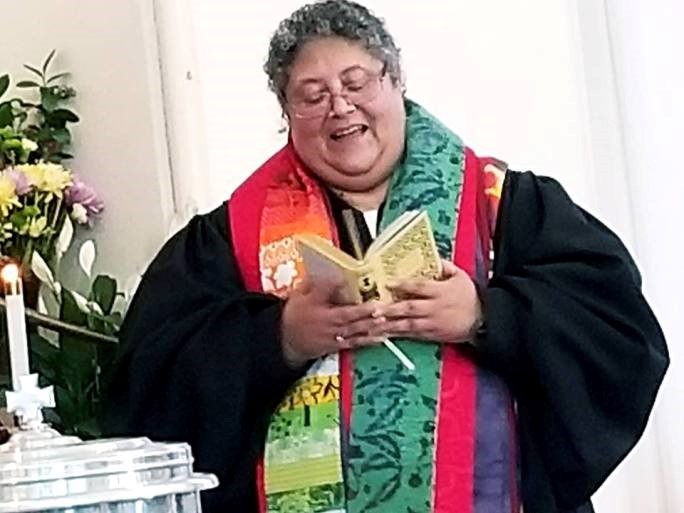 Rev. George is one of two African American UCC clergy in the state of Maine. Born and raised in Bangor, she was ordained in July 2018 at Hammond Street Church where she, her parents, and brother and sister began attending in the 1960's.
On May 31 of this year, Pentecost Sunday, Rev. George preached to her congregations (in a worship service held online due to the COVID-19 pandemic) about the difficult days following the murders of Ahmaud Arbery, Breonna Taylor and George Floyd. She began by saying, "My job [this morning] is to be here and speak my truth. My seat is not an easy one to sit in today. It is not easy to serve a congregation where no one looks like me, in a conference where there is only one other pastor who looks like me. It is a very lonely and difficult time."
She connected the unrest and confusion of America today with the confusion swirling in the streets of Jerusalem as pilgrims from all over the world arrived to celebrate The Feast of Weeks. She called on Christians to claim the gift of the Holy Spirit that enabled people who were profoundly different to understand one another at Pentecost. "Ours is the responsibility of having the God-given power to understand others at a time of great confusion."
[CLICK HERE TO WATCH A 10-MINUTE EXCERPT OF REV. GEORGE'S PENTECOST SERMON]