Maine faith leaders host drug overdose death vigil at State House
By Brandon Doyen
Posted: Wed 6:55 PM, Apr 11, 2018
Updated: Wed 7:38 PM, Apr 11, 2018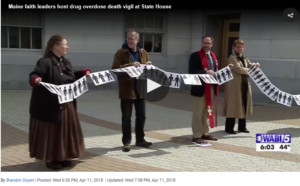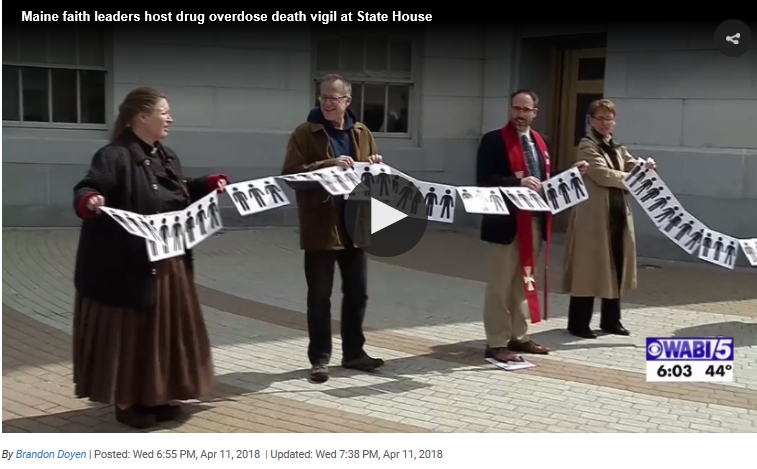 AUGUSTA, Maine (WABI) – Faith leaders gathered in Augusta on Wednesday to host a vigil for the hundreds of people in Maine lost last year to drug overdoses.
They're calling on lawmakers to fully fund a number of bills aimed at addressing the opioid crisis in the state.
"418 people died last year from overdoses – that's more than one a day," said Rev. Jane Field, Executive Director of the Maine Council of Churches.
That's an estimated 150% increase in Maine from just seven years ago.
"We're still going backwards. Every year we have more and more deaths, we have drug affected babies at a rate of 8%. We've done some things here in the legislature, but clearly we haven't done enough," said Rep. Drew Gattine, (D) Westbrook.
Gattine's bill to create a pilot project to provide housing for 50 homeless addicts is one of several measures being debated in the legislature to combat Maine's opioid epidemic.
"That provides low-barrier, effective medication-assisted treatment for the most vulnerable folks like people who are homeless but addicted," said Field.
Community members joined advocates and local clergy to provide lawmakers with a faith-based perspective on the importance of supporting prevention, harm reduction, and treatment rather than incarceration.
"That isn't working. It's showed for years that doesn't work. The problem has gotten worse and worse and worse," said Field.
"These bills are moral documents and we really need to see action on these bills this year in order to avert more deaths in the future," said Kenney Miller, Executive Director of the Maine Health Equity Alliance.
Through song, prayer, and silent witness, faith leaders and advocates showed their support for other bills as well, such as one to reduce the cost of care resulting in blood-borne infectious diseases.
"This bill would create a fund of $75,000 a year to fund syringe exchange programs throughout the state. These are vital programs to prevent the spread of Hepatitis C, which currently MaineCare is spending $18-23 million on a year," said Miller.