MCC Blog July 27, 2017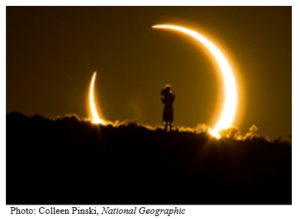 Next month, MCC Board president Bonny Rodden and her family will be traveling to Oregon to witness the total solar eclipse on August 21. The sky will grow so dark that they will be able to see the stars at midday, as well as the sun's corona and chromosphere and gusts of solar plasma. In her essay in this month's Sojourners magazine, poet Rose Marie Berger writes that those who view the eclipse "will see the fire at the heart of everything," and she quotes Annie Dillard, who wrote after seeing the 1979 solar eclipse: "In the black sky was a ring of light. It was a thin ring, an old, thin silver wedding band, an old worn ring. It was an old wedding band in the sky, or a morsel of bone."
During the recently concluded 128th session of the Maine legislature, and during the U.S. Senate struggle over the GOP health care bill, many of us felt as if we were hurtling toward that kind of darkness at midday, toward a total eclipse of the values of justice and compassion and peace so central to our faith. The tattered shreds now left of our state's social safety net were threatened by numerous attempts to de-fund or further restrict access to essential programs like TANF, SNAP, General Assistance and MaineCare, and it appeared our nation was dangerously close to stripping millions of people of the health care insurance they had so recently gained through the Affordable Care Act. The poor, ill, disabled, elderly, children and immigrants—the most vulnerable of our brothers and sisters—were in danger of being cut off from even the most basic protection and care. As the bitter and intense session dragged on and on in Augusta, even through the three-day state government shutdown that came at the end, and as the GOP crafted its BRCA bill in secret, planning to force it through the Senate before the July 4 recess, advocates and policy analysts became more and more pessimistic about what seemed to be the inevitable grim outcome.
Yet despite our weariness, we resisted the temptations of hopelessness and resignation, gathering together again and again in the state house in Augusta, in Lobsterman's Park in Portland, in hearing rooms, at rallies and in churches—to testify, to strategize, to pray. We relied on our amazing in-house experts: John Hennessey (Maine Episcopal Network for Justice), Suzanne Lafreniere (Roman Catholic Diocese of Portland), Leslie Manning (Friends Committee on Maine Public Policy), and Dale McCormick (Maine Unitarian Universalist State Advocacy Network); on our valued partner organizations: Maine Equal Justice Partners (especially Joby Thoyalil), Preble Street Faith Action Network (especially Jan Bindas-Tenney), Maine Environmental Priorities Coalition (especially Andy Burt), and Faith in Public Life in Washington DC; and on the more than one-hundred faith-based advocates trained at our March Interfaith Advocacy Days. Together we were able to achieve more than we could have dreamed possible: no cuts to Maine's social safety net programs, and, thanks in large part to our Senator Susan Collins' strong "No!" to BRCA, a complete stop to that bill and at least a temporary halt in efforts to repeal the ACA!
In the midst of our joyful surprise, we were reminded yet again that God is not confined by our finite imagination, that God can, in the words of the old African-American proverb, "make a way out of no way." In short, it felt like a miracle. In a blog post on the United Methodist website, Jennifer Rodia writes that her disabled son, Lukas, was once asked "What is a miracle?" He replied, "When God surprises us." In the events of recent weeks, it is certainly fair to say that God surprised us!
Just as those who view the total solar eclipse on August 21 will, through the darkness, be able to see "the fire at the heart of everything," we were, when faced with the possibility of catastrophe, able to see the fire at the heart of God. And when the eclipse has passed and the darkness lifts, Berger writes, "Then it will all start over. The disc of the moon's shadow will slip. Creation will groan, like a drowned person coughing up the sea. Again the wedding band will be offered."
And again we will renew our vows to "act justly, love mercy and walk humbly with our God."